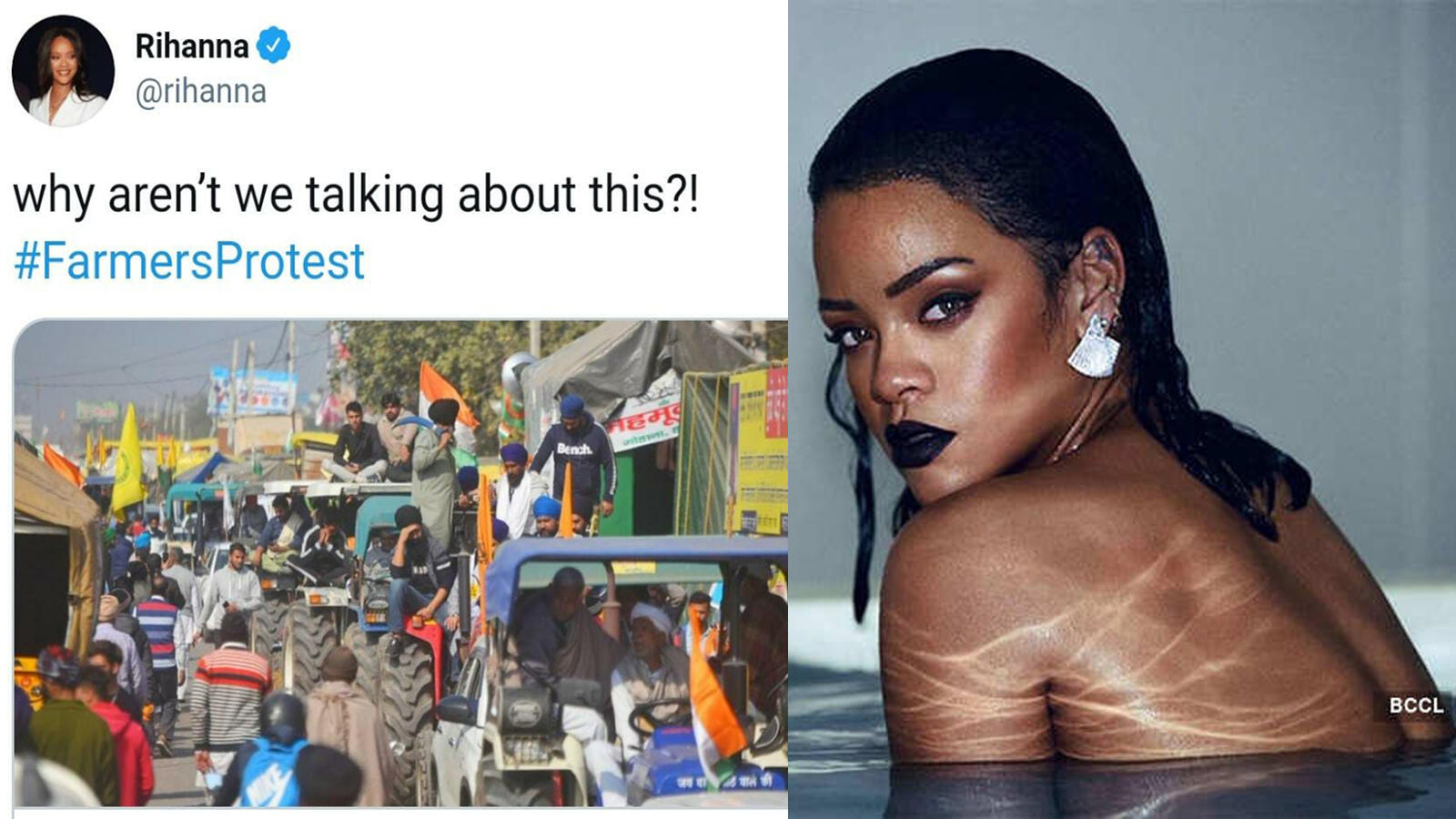 The farmers' agitation against Centre's farm laws has gone international. Tweets by renowned pop-star Rihanna and climate-activist Greta Thunberg favouring the protesting farmers have stirred up a hornet's nest with the Opposition calling it a hit at India's reputation and the government taking a strong exception of the comments by the foreign celebrities.
While Rihanna and Greta Thunberg's tweets gave a boost of confidence to the farmers protesting at Delhi borders
why aren't we talking about this?! #FarmersProtest https://t.co/obmIlXhK9S

— Rihanna (@rihanna) February 2, 2021
I still #StandWithFarmers and support their peaceful protest.
No amount of hate, threats or violations of human rights will ever change that. #FarmersProtest

— Greta Thunberg (@GretaThunberg) February 4, 2021
Happy to share that I've donated $10,000 to provide medical assistance to the farmers in need in India to help save lives during these times. I hope we can prevent any additional life from being lost. 🙏🏾 #FarmersProtest https://t.co/0WoEw0l3ij

— JuJu Smith-Schuster (@TeamJuJu) February 3, 2021
Confirming I have in fact regained consciousness, and would like to thank you for your concern, albeit unnecessary. Still standing with the farmers, though ♥️ pic.twitter.com/ttZnYeVLRP

— Mia K. (@miakhalifa) February 4, 2021
What in the human rights violations is going on?! They cut the internet around New Delhi?! #FarmersProtest pic.twitter.com/a5ml1P2ikU

— Mia K. (@miakhalifa) February 3, 2021
"Paid actors," huh? Quite the casting director, I hope they're not overlooked during awards season. I stand with the farmers. #FarmersProtest pic.twitter.com/moONj03tN0

— Mia K. (@miakhalifa) February 3, 2021
Farmers welcome incoming international support
The Sanyukta Kisan Morcha (SKM), an umbrella body of 40 farmers' unions, acknowledged the international support pouring in for the agitating farmers saying that while it is a matter of pride that eminent global personalities are showing sensitivity towards the cause of farmers, "it is unfortunate that the Government of India is not understanding the pain".
Responding to the incoming international support, SKM, in a press release, said that the farmer movement is "getting stronger day by day".
It's no coincidence that the world's oldest democracy was attacked not even a month ago, and as we speak, the most populous democracy is under assault. This is related. We ALL should be outraged by India's internet shutdowns and paramilitary violence against farmer protesters. https://t.co/yIvCWYQDD1 pic.twitter.com/DxWWhkemxW

— Meena Harris (@meena) February 2, 2021
I'm grateful for AOC speaking vulnerably about the trauma she experienced at the Capitol insurrection but I'm so angry that she has to — that there has been ZERO accountability, that no members of Congress have been expelled. It's disgraceful and shameful. pic.twitter.com/LNJL7VtT5E

— Meena Harris (@meena) February 2, 2021
I still #StandWithFarmers and support their peaceful protest.
No amount of hate, threats or violations of human rights will ever change that. #FarmersProtest https://t.co/5VwwBSDXu0

— Meena Harris (@meena) February 4, 2021
Digital protest for farmers in India. #IStandWithFarmers #FarmersProtest #IndianFarmers pic.twitter.com/hVu4yCxM9O

— Grace *Tomorrow Is Too Late out now!* (@ElmGrace) February 5, 2021
Hope you're OK @GretaThunberg.
Takes great courage to speak truth to power, instead of parroting officially given lines. Much older celebrities especially have lot to learn from you.

Your global work has always inspired, so don't let hate stop you from standing for human rights. https://t.co/jNcQbc4bR5

— Tanmanjeet Singh Dhesi MP (@TanDhesi) February 4, 2021
I still #StandWithFarmers and support their peaceful protest.
No amount of hate, threats or violations of human rights will ever change that. #FarmersProtest

— Claudia Webbe MP (@ClaudiaWebbe) February 4, 2021
We ALL should be outraged. Govts should never use broad, indiscriminate shutdowns to stop the flow of information or to harm people's ability to express political views, especially during a health crisis. #IStandWithFarmers https://t.co/mc6tMb6fQh

— Preet Kaur Gill MP (@PreetKGillMP) February 3, 2021
I stand with all my Indian brothers and Sisters and all the Farmers amidst the protests. Police have attacked peaceful protestors and suspended internet to limit communication between protestors and the rest of the world. We must stand against inhumanity & spread awareness 🇮🇳 🙏🏾

— Tinie (@tinie) February 4, 2021
I stand in solidarity with the #FarmersProtest in India!

Protestors are being attacked and detained, while the government is trying to cover up and silence one of the largest protests in history. @PMOIndia we will not be silent.

for my sister @LicypriyaK

— Alexandria Villaseñor (@AlexandriaV2005) February 3, 2021
India Stands With Farmers
#NDTVExclusive | "Appreciate tweets on #FarmersProtest by international celebrities": Actor-Politician Shatrughan Sinha pic.twitter.com/7WALarvVwk

— NDTV (@ndtv) February 5, 2021
ਕਿਸਾਨ ਮਜ਼ਦੂਰ ਏਕਤਾ ਜ਼ਿੰਦਾਬਾਦ
Also Read
---