Ground Report | Thousands of Farmers Attended Kisan Mahapanchayat in UP's Muzaffarnagar | The Quint
Protesting farmers at the Kisan Mahapanchayat reiterated their conviction to continue with their agitation until their demands are met. The farmers' body also declared that it would campaign against BJP in the upcoming Uttar Pradesh polls in 2022.
The Kisan Mahapanchayat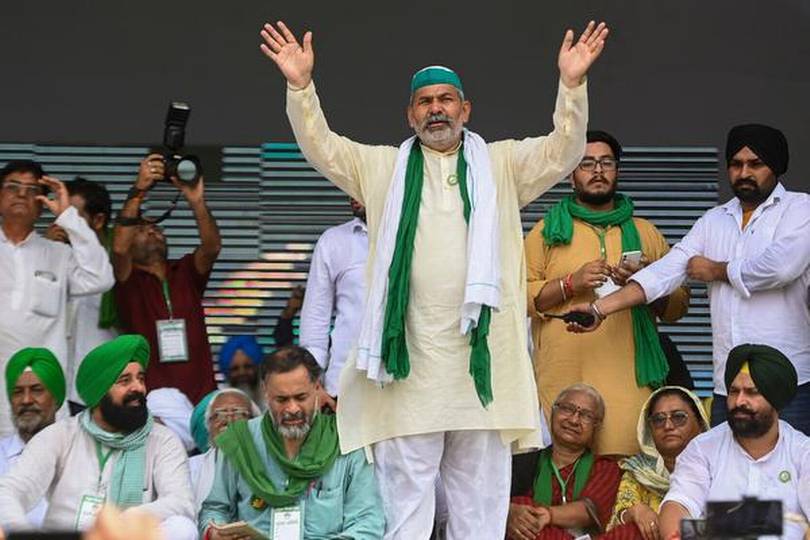 Samyukt Kisan Morcha, the umbrella body of the 40 farmer unions, had announced that as the protest enters its tenth month, they would hold a mahapanchayat with the aim of launching its 'Mission Uttar Pradesh' and discuss the three contentious farm laws that have been implemented since November 2020.
"They (the Centre) said only a handful of farmers are protesting. Let them see how few are protesting. Let us raise our voices so it reaches the ears of those sitting in parliament," the farmers stated from the dais of the protest event, NDTV reported.
"We take a pledge that we'll not leave the protest site there (at Delhi borders) even if our graveyard is made there. We will lay down our lives if needed, but will not leave the protest site until we emerge victorious," BKU leader Rakesh Tikait was quoted as saying by news agnency ANI at the Kisan Mahapanchayat.
"When Governmentt of India will invite us for talks, we will go. The farmers' agitation will continue until the government fulfils our demands. The struggle for Independence continued for 90 years so I have no idea for how long this agitation will run," he added.
Farmers from different parts of Uttar Pradesh, Punjab and Haryana had already started gathering at the ground since Saturday midnight.
Despite eleven rounds of talks between the protesting farmers and the central government, both parties are at a deadlock as the government had refused further discussions unless farmer unions drop their demand for repealing the laws.
"Senior ministers of Government of India held not one but 11 rounds of meeting with farmers. The agriculture minister said that Govt is always ready for talks. The government has increased MSP and procured more agriculture produce on MSP this year," Union Minister Anurag Thakur was quoted as saying by ANI on Sunday.
"Some people are spreading misinformation that mandis will be closed. Which mandi was closed in the last two years? They (farmers) say Agri-produce will not be procured on MSP. On the contrary, procurement on MSP was higher this year," he added.
Tightened Security at Muzzaffarnagar
Anticipating record numbers, the Uttar Pradesh government had beefed up security in Muzaffarnagar ahead of the Mahapanchayat. Two companies of rapid action force (RAF), as well as eight companies comprising more than 1,000 personnel of the provincial armed constabulary (PAC), had been deployed in the city.
After protesting farmers were lathi-charged in Haryana's Karnal on 28 August, SKM issued a press note on Friday, 3 September, where the leaders noted that SDM Ayush Sinha "was not acting on his own" adding that "his political masters were the ones who ordered the breaking of farmers' heads."
The body has claimed that if no action is taken by 6 September, they will launch a siege of the Mini Secretariat in Karnal.
'Farmers Are Our Own Flesh and Blood'
Pilibhit MP and Bharatiya Janata Party leader, Varun Gandhi tweeted that the farmers are our own flesh and blood and the government must work to reach a common ground with the farmers.
Lakhs of farmers have gathered in protest today, in Muzaffarnagar. They are our own flesh and blood. We need to start re-engaging with them in a respectful manner: understand their pain, their point of view and work with them in reaching common ground. pic.twitter.com/ZIgg1CGZLn

— Varun Gandhi (@varungandhi80) September 5, 2021
Rashtriya Lok Dal (RLD) leader Jayant Chaudhary also took to Twitter to claim that he wanted to welcome the farmers by showering petals from a helicopter but was not given permission for the same.
#MuzaffarnagarPanchayat में हेलीकॉप्टर से पुष्प बरसाकर किसानों के प्रति आदर भाव व्यक्त करना चाहता था।

जब तक ऐसी सरकार को बदल नहीं लेते जिसके राज में किसानों पर पुष्प वर्षा नहीं हो सकती, मैं भी फूल माला स्वीकार नहीं कर सकूँगा! 🙏🏽 #RLD_किसान_के_साथ

Watch: https://t.co/mArn8VsDav

— Jayant Singh (@jayantrld) September 5, 2021
The farmers, who have been protesting the contentious laws since November 2020, have demanded a complete roll back of the laws and have pushed for the inclusion of laws that guarantee a minimum support price (MSP) for their crops.
किसान महापंचायत में अल्लाह-हू-अकबर और हर-हर महादेव के लगे नारे

राकेश टिकैत बोले- "भाजपा तोड़ने का काम करेगी -हम जोड़ने का काम करेंगे" pic.twitter.com/Pw4klTEjjF

— Dawood Nadaf (@DawoodNadaf10) September 5, 2021
via
The Quint>
ਕਿਸਾਨ ਮਜ਼ਦੂਰ ਏਕਤਾ ਜ਼ਿੰਦਾਬਾਦ
Also Read
---