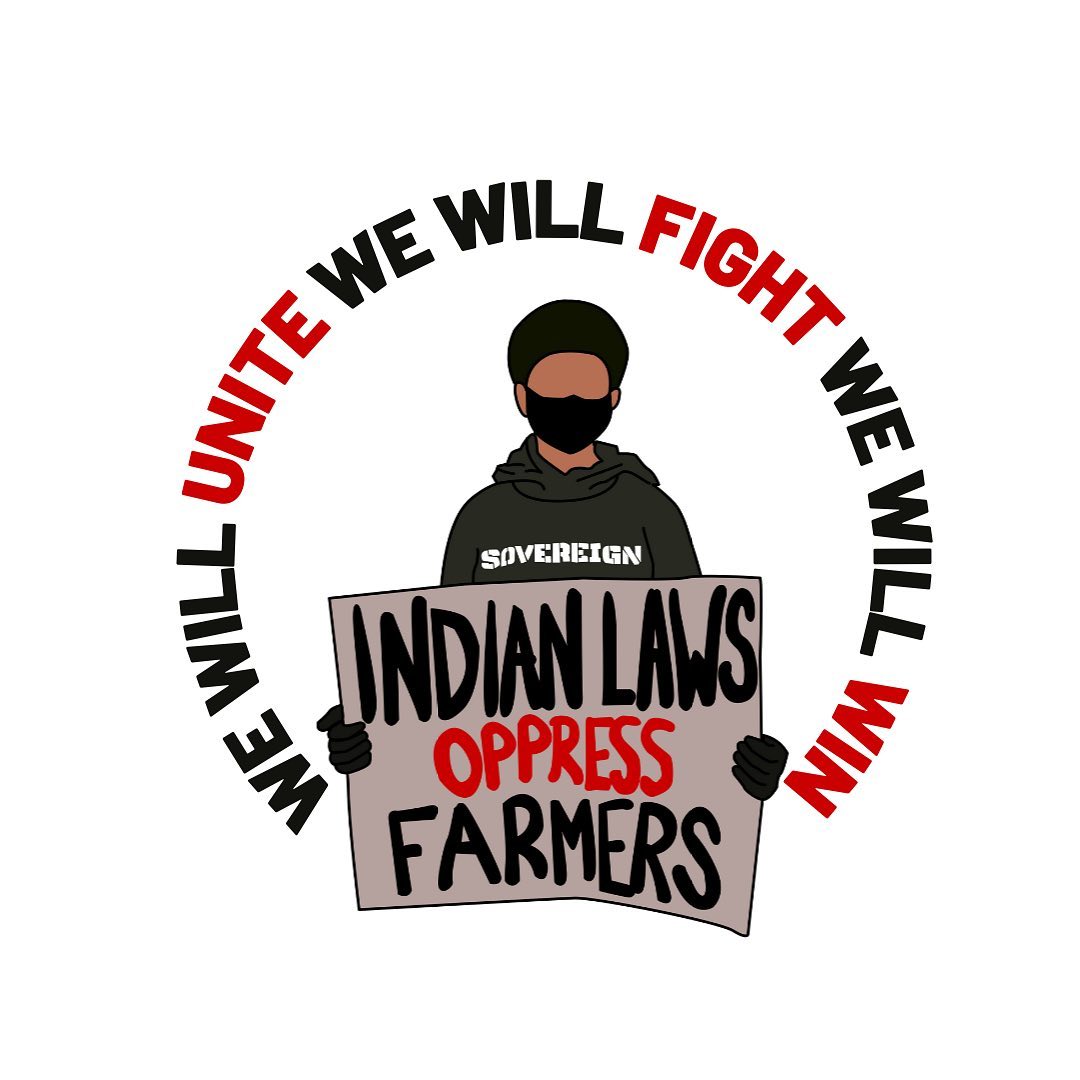 Nothing has changed
Things have only gotten worse. In over 11 months Prime Minister Narendra Modi has not made single statement or appearance in public. Millions have supported this movement yet he refuses to acknowledge it. Hundreds have died, thousands injured. State police abusing peaceful protestors with batons, tear gas, water cannons and now bullets. There have been hundreds of unlawful arrests and reports of sexual assault and torture are pouring out from prisons.
For many of us, these are our friends and family, We watch helplessly from thousands of kilometres away, as an oppressive government deprives people of their rights and dehumanizes them. And for what? Just to ensure that billionaires Ambani and Adani are able to increase their wealth? It's madness, corporate wealth is robbing us of our humanity. If you are reading this please don't stay silent anymore, it's only a matter of time before the massacre begins.
Answers To Some Questions That Are Frequently Asked At A Farmer Protest.
1. HI, WHY ARE YOU PROTESTING?
We are out here in support of the Farmer's Protest happening right now outside of Delhi, India. Currently, in India there are hundreds of thousands of farmers from various states peacefully protesting three bills that the Indian Government passed which aim to deregulate farming, opening it up to exploitation by large corporations. These 3 bills benefit only these companies and jeopardize the livelihood of the vast majority of farmers. Farmers have been peacefully protesting for almost two weeks now and have been met with various forms of police brutality including the use of tear gas, water cannons, unlawful arrests, torture and now even murder.
Keep Reading
---
What Are Farm Laws ?
Problem With Farm Bills ?
Problem With India ?
2. I DON'T UNDERSTAND THESE BILLS CAN YOU EXPLAIN THEM?
Here are three bills and each one of them is problematic.
The first and second bill will essentially abolish mandis, a mandi is where farmers have been selling crops for close to 80 years. At a mandi farmers are guaranteed the MSP (Minimum Support Price). This is a price set by the government to ensure that Farmers aren't taken advantage of. The problem: without guaranteed MSP large corporations can come in and stiff arm farmers. Farmers with small farms will have bargaining leverage. The result: they'll be offered outrageously low prices or will be ignored entirely.
The third bill makes amendment in the Essential Commodities Act, which basically makes it legal for companies to hoard agricultural products after they purchase them. The problem: This will allow large corporations to further dictate price and exploit farmers
3. WAIT, THIS MEANS CORPORATIONS CAN WORK DIRECTLY WITH FARMERS, SHOULDN'T HAT EXPAND THEIR OPPORTUNITIES?
It seems that way doesn't it and that's exactly how the Indian Government is selling it as too, but no one's buying it. Farming in India is different than in other parts of the world. Currently in India upwards of 80% of farmers operate farms that are smaller than 5 acres, the majority of which are only 2-3 acres. There is no corporation that will be willing to work with such small farmers. Without the current price protection offered by Mandis and the MSP, millions of farmers will lose their land because they will either be neglected or forced into predatory contracts/loans by corporations. This Land will then be available for the same corporations to steal. India already has absurd suicide rates among farmers, these bills won't help.
4. WHY WOULD THE GOVERNMENT PASS THESE BILLS, ISN'T INDIA A DEMOCRACY?
Hardly. Not only were these bills passed during a global pandemic but all opposition to the bills was ignored or removed from parliament! Doesn't seem very democratic, right? It gets worse, the Bills weren't even voted on, Deputy Chairman Harivansh refused to allow it. He ended the day by calling it a "historic day for the BJP and Narendra Modi". Still doesn't answer why though. The why is simple: these Bills will eliminate 80% of farmers and allow large corporations to take over, ultimately making them even more money. There's a reason why Politicians who opposed the Bills called them "Death Warrants for farmers". These Farm Bills are not for farmers, they are only for the benefit of corporations.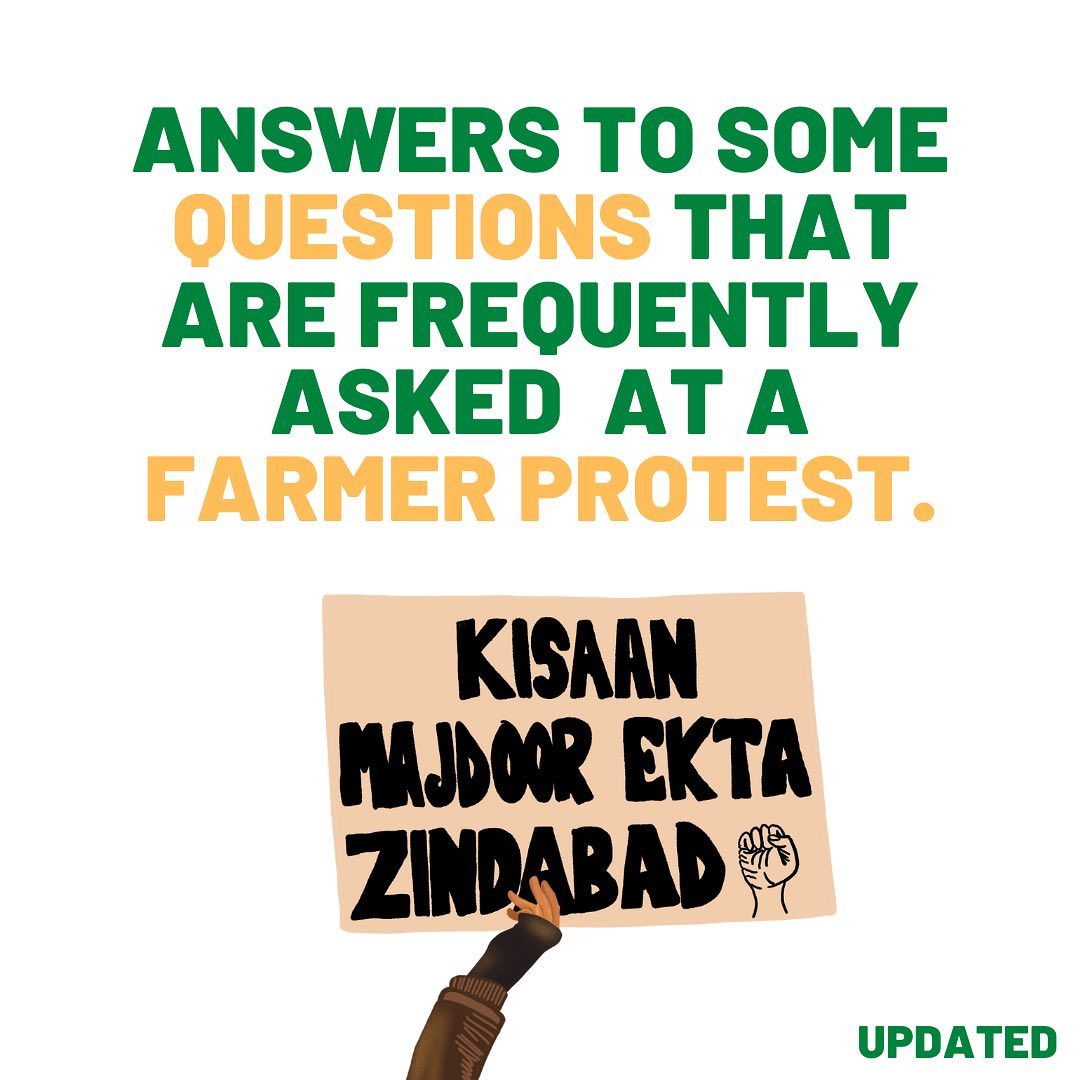 5. WHAT ARE PROTESTING FARMERS ASKING FOR ?
Simple: Repeal the Farm Bills.
6. ALRIGHT, THIS IS TERRIBLE FOR FARMERS IN INDIA, WHY PROTEST IN CANADA THOUGH ?
India has a long history of turning to violence when minorities protest. We hope that by amplifying the voices of farmers through various forms of protest we can help put pressure on the Indian Government to listen to the farmers instead of harming them or worse killing them.
And it's personal. Many of us are only a generation or two removed from Punjab. These bills won't just kill farmers, they will cleanse our land of our culture and heritage. Laws like these and other political moves have systemically deprived Punjab of its wealth and well being. This is why we are all deeply hurt by the actions of the Indian Government. But our roots are buried deep in the land of Punjab and won't easily be removed.
7. I'M ON BOARD, HOW CAN I HELP?
Every like, share, comment, and conversation will help save lives. The Indian Government and the rich oligarchs that are operating it have made investments in many international media outlets and sadly in India, they have basically bought them all out. Media in India is almost entirely private. As a result, protestors have no voice and cannot create their own narratives. The Government of India has successfully convinced the world that farmers are uneducated, terrorists, that they are violent, and that they deserved to be arrested or lynched. Using corrupt media outlets, state police have empowered angry mobs to attack farmers.
The truth is for the past two months at the protest site, farmers have set up communal kitchens for thousands, they've established schools for impoverished children, created their own grassroots newspaper, built housing and washrooms for everyone- all while leading the world's largest protest. If you want to help, please use your platforms to amplify the voices of farmers.
via @cool_spiritual
ਕਿਸਾਨ ਮਜ਼ਦੂਰ ਏਕਤਾ ਜ਼ਿੰਦਾਬਾਦ
Also Read
---