Farmers Protest,India against three Black Farm Laws
In Punjab, small-scale protests had started in August 2020 when the Farm Bills were made public. It was only after the passage of the acts that more farmers and farm unions across India joined the protests against the reforms. On 25 September 2020 farm unions all over India called for a Bharat Bandh (lit. transl. nation-wide shutting down) to protest against these farm laws. The most widespread protests took place in Punjab, Haryana and Western Uttar Pradesh. but Protest were also reported in Uttar Pradesh, Karnataka,.Tamil Nadu, Odisha,Kerala and other states. Railway services have remained suspended in Punjab for more than two months due to the protests, starting from October Following this, farmers from different states then marched to Delhi to protest against the new agri- laws. Farmers also criticized the mainstream media for misrepresenting the protest.
In certain parts of India, bullock-cart rallies in support of farmer's protest have also been organized by marginal farmers.
Farmer unions
Under the coordination of bodies such as Sanyukt Kisan Morcha and All India Kisan Sangharsh Coordination Committee, the protesting farm unions include.
Bharatiya Kisan Union (Ugrahan, Sidhupur, Rajewal, Chaduni, Dakaunda..)
Kisan Swaraj Sangathan in Indore
Jai Kisan Andolan
All India Kisan Sabha
Karnataka Rajya Raitha Sangha
National Alliance for People's Movements
Lok Sangharsh Morcha
All India Kisan Khet Majdoor Sangathan
Kissan Mazdoor Sangharsh Committee
Rashtriya Kisan Majdoor Sangathan
All India Kisan Mazdoor Sabha
Krantikari Kisan Union
ASHA-Kisan Swaraj
Lok Sangharsh Morcha
All India Kisan Mahasabha
Punjab Kisan Union
Swabhimani Shetkari Sanghatana
Sangtin Kisan Mazdoor Sanghatan
Jamhoori Kisan Sabha
Kisan Sangharsh Samiti
Terai Kisan Sabha
Transport bodies such as the All India Motor Transport Congress (AIMTC), representing about 9.5 million truckers and 5 million bus and taxi drivers, have threatened to halt the movement of supplies in the northern states, further adding that "We will then escalate it to the entire country if the government fails to address (the farmer's) issues" After a meeting with government officials and 30 union representatives, "the farmers have rejected the government's proposals," Darshan Pal, president of the Krantikari Kisan Union told the press on 8 December 2020.
Members of Bhartiya Kisan union staging a protest against farm laws at the Delhi-Ghaziabad border, in New Delhi on Tuesday.
Transporters threaten to halt North India ops to support farmers' protest

Rail Roko
On 24 September 2020, farmers started a "Rail Roko" (transl. "stop the trains") campaign, following which train services to and from Punjab were affected Farmers extended the campaign into October. On 23 October, some farmer unions decided to call off the campaign, as supplies of fertilizer and other goods in the state were starting to run short .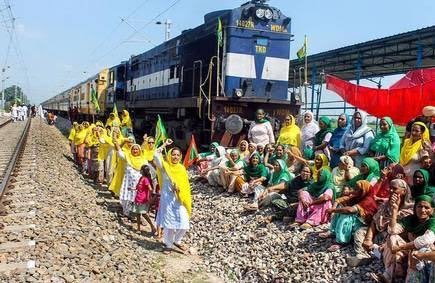 Dilli Chalo
After failing to get the support of their respective state governments, the farmers decided to pressure the Central Government by marching to Delhi. On 25 November 2020, protesters from the Dilli Chalo (transl. "let us go to Delhi") campaign were met by police at the borders of the city.The police employed the use of tear gas and water cannons, dug up roads, and used layers of barricades and sand barriers to stop the protesters, leading to at least three farmer casualties Amidst the clashes, on 27 November, media highlighted the actions of a youth who jumped onto a police water cannon targeting protesting farmers and turned it off. He was later charged with attempted murder.
The march on Delhi was accompanied by a 24-hour strike of 250 million people across India on 26 November 2020 in opposition to both the farm law reform and proposed changes to labour law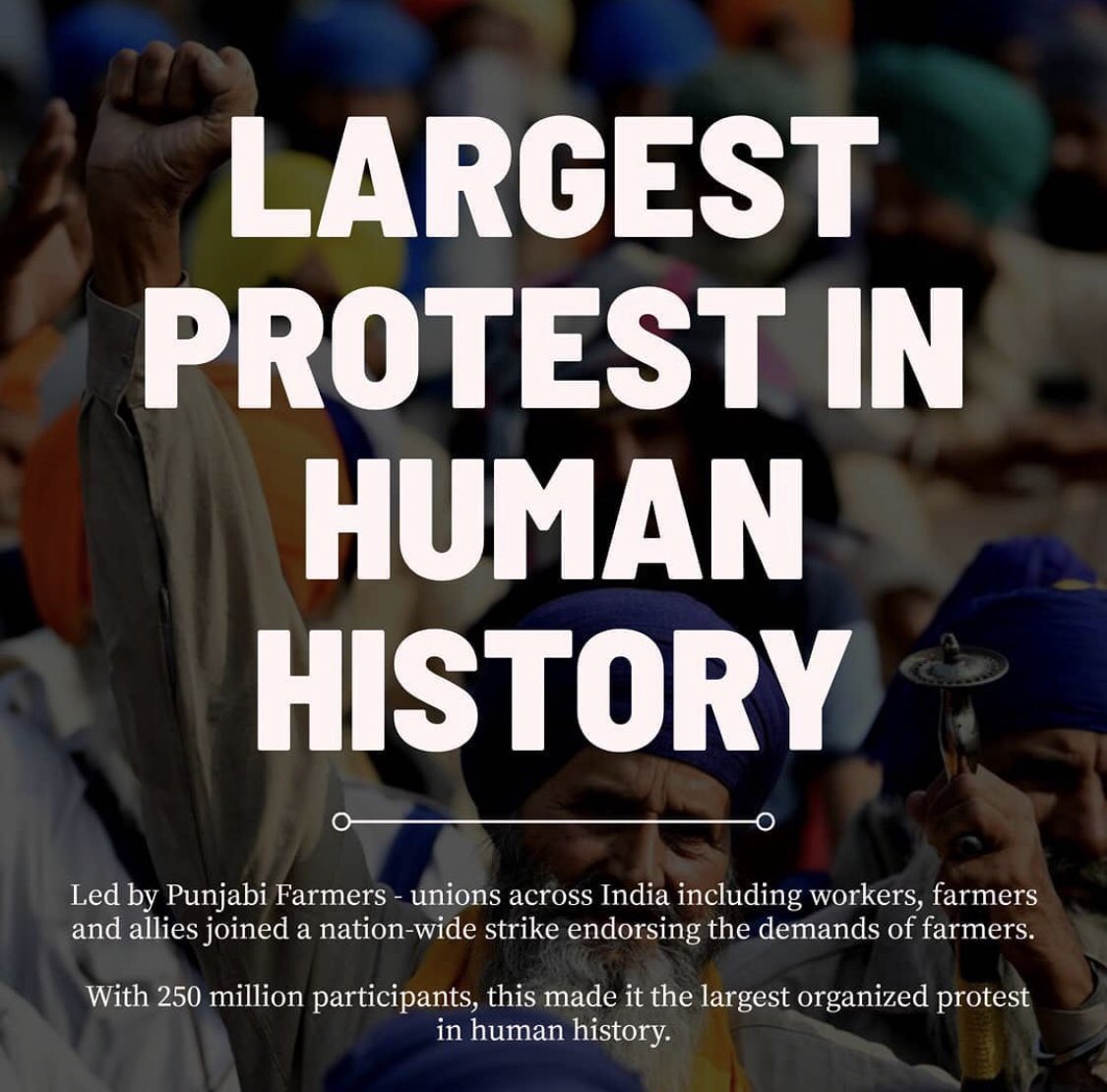 Between 28 November and 3 December, the number of farmers blocking Delhi in the Dilli Chalo was estimated at 150 to 300 thousand.
The Central Government Of India announced they would for discussing the future of the new farm laws on 3 December 2020, despite the protesters' demands that the talks took place immediately. It was decided that the government would only talk to a select group of farmer unions. The Prime Minister would be absent in this meeting. The KSMC, a leading kissan jatha (transl. farmer organisation) refused to join this meeting for these reasons.While the Center wanted the farmers to move away from Delhi to a protest site in Burari the farmers preferred to stay at the borders and instead put forward a proposal of protesting at Jantar Mantar in central Delhi.
The farmers' unions announced that on 4 December they would burn effigies of PM Modi and leaders of corporations. Prominent personalities began announcing their plans to return their awards and medals received from the Central Government. On 7 December, farmers announced their plan to organize a Bharat Bandh (national strike) on 8 December. After talks with the central government failed to find a solution on 5 December, farmers confirmed their plans for a national strike on 8 December. Further talks were planned for 9 December.
On 9 December 2020, the farmers' unions rejected the government's proposals for changes in-laws, even as the Centre in a written proposal assured the minimum support price for crops. The farmers also said they will block the Delhi-Jaipur highway on 12 December and nationwide Protests will be called on 14 December 2020. On 13 December, Rewari police barricaded Rajasthan-Haryana border to stop farmers from marching to Delhi, and the farmers responded by sitting on the road and blocking the Delhi-Jaipur highway in protest.
Blocked border and roads
A number of borders, including the Singhu border, Kundli Border, Dhansa border, Jharoda Kalan border, Tikri border, Kalindi Kunj border, Chilla border, Bahadurgarh border and Faridabad border, were blocked by protesters(Indian Authoritise) during the protests.On 29 November, the protesters announced that they would block five further points of entry into Delhi, namely Ghaziabad-Hapur, Rohtak, Sonipat, Jaipur and Mathura.
ਕਿਸਾਨ ਮਜ਼ਦੂਰ ਏਕਤਾ ਜ਼ਿੰਦਾਬਾਦ
Also Read
---